Sometimes one forget to bring the favorite music when chartering. Of course it is not essential when sailing. But if your mood needs it don't worry you will find a MAY Club Music Selection on our boats.
The Selection consist of 9 CDs each of 90-110 minutes of music in different style.
This way you may surely find the right music for the actual mood and scenery.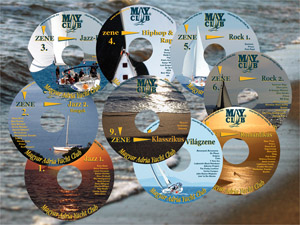 On the first one you hear nice Jazz performed by the best musicians of the jazz history.

Number two is also Jazz but with vocal.

The third disc is for the Jazz-Rock fans.

No. 4. is a selection of Hiphop & Rap for the youngs.

On Rock I. you find great classical rock songs.

Rock II. contains of more soft pieces.

The Romantic Selection ... well... it is a romantic one.

Disc No 8. is World Music. This is a very free category so the CD includes different interesting tunes.

Finally we haven't forget those who like the Classical music. The disc No. 9 also has some surprises in store for your ears.

Please see the exact contents of the MAY Club Music Selection here...
important:
at the end of your charterweek Choose your favourite disc from the selection as our present !
Happy Sailing!